Economic Death Squad
http://ampedstatus.org/analysis-of-the-global-insurrection-against-neo-liberal-economic-domination-and-the-coming-american-rebellion-we-are-egypt-revolution-roundup-3/#denial
A report entitled, "Grapes of Wrath – 2011," presents a challenge to us:
"The American people have a choice…. The current path, forged by a minority of privileged wealthy elite, will lead to the destruction of this country and misery on an unprecedented scale…. Are you prepared to incur the wrath of the vested interests and meet their lies and propaganda with the fury of your own wrath in search for the truth? These men are sure you don't have the courage, fortitude and wrath to defeat them."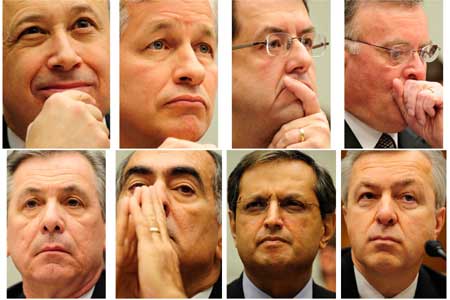 In an article and video entitled, "The Wall Street Economic Death Squad," as I reported back in October, 2009:
"We need to focus our strategy on the small group of men who carried out the financial coup. These 13 men played leading roles in first crashing the economy, and then stealing trillions in taxpayer funds. Some of them are now calling the shots and running the government to insure that their obscene profits keep pouring into their coffers.

Know Our Enemies, EHMs – Meet The Wall Street Economic Death Squad:

Hank Paulson, Tim Geithner, Ben Bernanke, Robert Rubin, Larry Summers, Alan Greenspan, Lloyd Blankfein, Jamie Dimon, John Mack, Vikram Pandit, John Thain, Hank Greenberg, Ken Lewis.

These men 'presided over the largest transfer of wealth in history, from the working class to the flamboyant super rich.' What these men have done is obscene. After crashing the economy, trillions, literally trillions of dollars have been funneled into the pockets of a select few, in secrecy, while billions of people suffer in poverty, billions suffer to survive. This small tight-knit Wall Street cadre has committed a crime against humanity."
Ralph J. Dolan, writing on Dissident Voice, declares, "Bring the Tyrants Down!"
"… while we're observing these historic events in Egypt we might take a lesson in justice. We might come to our senses and freeze the assets of Lloyd Blankfein of Goldman Sachs, Vikram Pandit of Citigroup, Brian Moynihan of Bank of America, Jamie Dimon of J.P. Morgan Chase and John Strumpf of Wells Fargo – for starters. Then we could go after the other major players in orchestrating the financial meltdown – Timothy Geithner, Henry Paulson, Ben Bernanke, Lawrence Summers, Robert Rubin, Alan Greenspan, etc.

These guys who waltz away with billions in profits while they create misery and dislocation for many millions of struggling working people are beneath contempt….

We seem ready to kneel at the feet and kiss the hands of those who would rob us blind.

Enough! Let us bring these tyrants down!"
If Egyptians can seize the assets of a dictator like Mubarak, why can't we seize the assets of Jamie Dimon and Llyod Blankfein?
A new report from Matt Taibbi in Rolling Stone harshly sums up Banana Republic USA:
"A former Senate investigator laughed as he polished off his beer. 'Everything's fucked up, and nobody goes to jail,' he said. 'That's your whole story right there. Hell, you don't even have to write the rest of it. Just write that.' I put down my notebook. 'Just that?' 'That's right,' he said. 'Everything's fucked up, and nobody goes to jail. You can end the piece right there.'

Not a single executive who ran the companies that cooked up and cashed in on the phony financial boom — an industrywide scam that involved the mass sale of mismarked, fraudulent mortgage-backed securities — has ever been convicted. Their names by now are familiar to even the most casual Middle American news consumer: companies like AIG, Goldman Sachs, Lehman Brothers, JP Morgan Chase, Bank of America and Morgan Stanley. Most of these firms were directly involved in elaborate fraud and theft."
Once again, veteran financial journalist Paul B. Farrell hits the nail on the head. Writing for Market Watch, Farrell doesn't pull any punches in summing up what needs to be done, and it can't be said enough:
Fed Dictator Bernanke Needs To Be Toppled

"Fed boss Ben Bernanke is the most dangerous human on earth, far more dangerous than Hosni Mubarak, Egypt's 30-year dictator, ever was. Bernanke rules a monetary dictatorship… But this reign of economic terror will end. Just as Mubarak was blind to the economic needs of the masses and democratic reforms, Bernanke is blind to the easy-money legacy that's set the stage for revolution, turning the rich into super rich while the middle class stagnates and peanuts trickle down to the poor."
You can't sentence the overwhelming majority of the population to slow death through economic policy and expect to get away with it.
While one-tenth of one percent of the population rolls around in obscene wealth, they may want to take a look outside of their groupthink short-sighted delusional perspective and notice the outside world. You cannot ignore the suffering of the masses. They will show up at your doorstep next.
I hear footsteps…