Ireland's small-town solution to euro uncertainty: bringing back the punt
Shopkeepers in border town of Clones use loophole to bring back Irish notes – and boost the local economy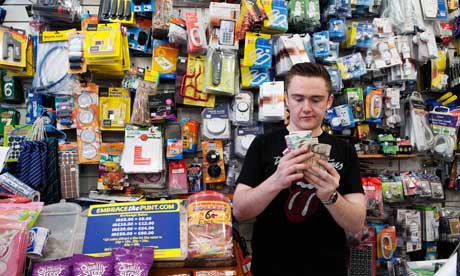 They are all taking part in an experiment to boost a town ravaged by the economic downturn. It exploits a financial loophole which deems that up to 285m punts stuffed under Irish mattresses, inside piggy banks, salted away as souvenirs in shoeboxes or in latent bank accounts, are still legal currency.
Holders of the old currency are invited to visit Clones and hand over their punts in exchange for blue and yellow laminated vouchers which are then usable at any of the 45 businesses that have signed up for the scheme.
"There have been people coming from as far south as Kerry and as far north as Antrim to spend money in the town since it began this spring," explains Ciaran Morgan, the 21-year-old university student who, along with his father, dreamed up the idea.
"We checked with the central bank in Dublin and we were staggered to find there was around 285m punts that could still be exchanged as legal currency.
"We got the plastic vouchers printed in China and then started the project in March. Customers who have punts come to the town, go into a shop or business, and they then get the euro equivalent on the voucher which they must spend here in Clones."
Morgan adds: "In our shop alone we've taken in over 1,000 punts."
"The seven cents made on each transaction isn't used for profit in the shops," stresses Morgan. "Each seven cents made is put into a central fund to pay for things like Clones's Christmas lights or the St Patrick's Day parade."
Ten of the business owners taking part in the scheme who spoke to the Guardian this week reported that trade was up dramatically since customers across the island dug out their old punts and started flocking to Clones.
But despite the unexpected boost, the signs of the Irish economic crash are still stark along Clones' main thoroughfare, Fermanagh Street. Finbarr Dunwoody, the president of Clones Chamber of Commerce, points to the boarded up shops as and the many for sale and to let signs.
"As you can see, 50% of the businesses in our main street are closed," he says.
"If we take one more euro into the town as a result of this scheme then it is surely a good thing. I was absolutely bowled over by the amount of punts still out there in the country so hopefully if we got 1% of that 285m it would be great."
The reintroduction of the euro in this border town, whose shops also accept sterling from Northern Ireland customers, has focused minds on the future of the single currency as the Greek crisis rages on and ahead of the republic's referendum on the EU fiscal treaty on Thursday.
Dunwoody like the overwhelming majority of people in Clones, is glad to see the familiar faces on the punt but uncertain about which way to vote on 31 May.
"Isn't it a real sign of the times that a town like Clones has to examine the potential of bringing back the old currency?" he says. "Maybe it's a flavour of what's to come, maybe it's a little warning to Brussels that the likes of Clones and indeed Ireland may have to find their own way out of this mess.
"Look, I would hate to see us leaving the euro – we got a 20% boost to our economy when we joined – but who's to say? I am wavering on the yes-no – one day I'm yes and one day I'm no. I've not made up my mind yet."
Across the street in the SuperValu store, the owner, Bernard McNally, has reported an extra €1,000-worth of trade since around Easter when "punt tourism" began. "Last Friday we had a couple from Templepatrick in Northern Ireland who had 80 punts and used it on a day trip to stock up for the week. Yesterday we had another couple from Portadown who spent 50 of their old punts. So the word has spread that far up north.
"Already 90% of the people coming through the door are customers I have never seen before."
His father-in-law, Londoner Raymond Hickey, who moved from Walthamstow to Clones in 1972, says he is delighted to see the punt come back. Hickey, who owns a shop called Sweets and Treats, says he prefers the punt to the euro.
He also agrees that disillusionment over the euro will have an impact on next week's referendum vote.
"When you start talking about Europe there is the whole thing about them dictating over what you can and what you can't do," Hickey says. "People get a little bit sick of that. I am undecided. I would have said yes at the beginning but I am questioning that now."
Slaking his thirst after a stroll in 20-degree heat, Rory Hamill hands a surprisingly crisp, purple 20-punt note across the bar in Treanor's pub.
Hamill, who lost his job in the recession, says: "Whatever brings people into the town will always be good for Clones and it seems to be helping so far."
Despite losing out personally in the eurocrisis, Hamill doesn't think the Clones experiment will be rolled out across the republic. "This is just a one-off as I don't think we are going to abandon the euro in its entirety," he says. "We are stuck with the euro."
In the town centre, meanwhile, armed Irish soldiers are protecting a security van delivering cash (presumably euros) to a local bank.
Spotting the troops at the top of the town, Ciaran Morgan confesses he won't be around much longer to see how his scheme will progress over the summer.
"I'm off to New York on Monday to find a job," says the young entrepreneur.