HOT BREAKING NEWS: J. P. Morgan-Gate Escalates
J. P. Morgan-Gate Escalates
by Tom Heneghan, International Intelligence Expert
Thursday November 17, 2011
Jamie Dimon, CEO of J. P. Morgan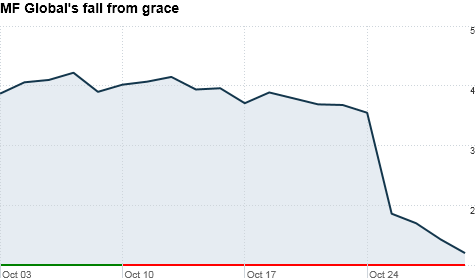 CNNMoney
UNITED STATES of America
- It can now be reported that J. P. Morgan is involved in massive fraud involving the bankruptcy of investment bank MF Global.

We can now divulge that it was J. P. Morgan and German Deutsche Bank, along with Glencore Commodities out of Zurich, Switzerland (whose CEO is none other than Bush-Clinton Crime Family stooge Marc Rich) that issued the collateral aka bogus derivatives that were used by MF Global to place trades on the European sovereign debt.

J. P. Morgan then proceeded to use their offshore hedge fund on the Isle of Man to take the opposite position of MF Global by buying EURO currency futures and simultaneously shorting MF Global stock.

It now gets worse!

Financial terrorist Jamie Dimon, CEO of J. P. Morgan, then proceeded to conspire with the European Central Bank and the ISDA to declare a non-credit event and basically cancel the trades of MF Global, which led to the bankruptcy of MF Global. (A former ECB Vice Chairman headquartered in Portugal has recently resigned his position with the ECB. He is under European INTERPOL investigation for conspiring with the privately-owned U.S. Federal Reserve and J. P. Morgan aka a massive money laundry tied to the forex currency exchanges and the Greek, Spanish and Portuguese banks).

J. P. Morgan then used their proceeds from the decapitation of MF Global to sell credit protection to Bank of America, which had massive exposure to Asian derivative debt.

Both J.P. Morgan and Bank of America then proceeded to buy Japanese yen futures on the worldwide forex exchange, which was designed to complete the derivative swindle.

Once this latest Ponzi Scheme was unraveled the Japanese Central Bank unilaterally intervened to depreciate the Japanese yen and buy U.S. dollars.

P.S. We can now divulge that the alleged missing $600 MILLION from MF Global segregated accounts have actually, for the last two weeks, been part in the custodial accounts of J. P. Morgan and Morgan Stanley.

As of this morning the funds have now been illegallytransferred to proprietary accounts of Barclays Bank in England and their secret hedge fund named Humewood Associates.

Note: This is massive obstruction of justice!

U.S. Attorney General Eric Holder needs to be immediately indicted by a People's Grand Jury.

P.P.S. We can now reveal that both U.S. Attorney General and Marc Rich stooge, Eric Holder, and SEC Chairman Mary Schapiro refused to seize the custodial accounts of J. P. Morgan even though a majority of DOJ and SEC investigators demanded that it be done immediately.

What we now have, folks, is money laundry enabled by both the SEC and the U.S. Department of Justice.

P.P.P.S. As of this hour crooked U.S. Attorney General Eric Holder aka Marc Rich-Jamie Dimon defense attorney, has left the country and is on his way to the Bahamas for an alleged legal conference.

Question: Could it be Eric Holder is going to the Bahamas to pick up his commission check from Marc Rich and Glencore Commodities?

Final note: We can now report that former MF Global CEO Jon Corzine is about to receive transitional immunity from Justice Department investigators that are busy unraveling the J. P. Morgan-MF Global debacle.

The only thing needed to complete this negotiation is for the U.S. Attorney General Eric Holder to sign off on it.

Question: Could it be that is the reason Eric Holder is flying to the Bahamas?