Ohio family found dead in suspected murder-suicide
By Emanuella Grinberg
CNN

(CNN) -- A family of four has been found dead in a suburban Columbus, Ohio, home in what's believed to be a murder-suicide, authorities said Thursday.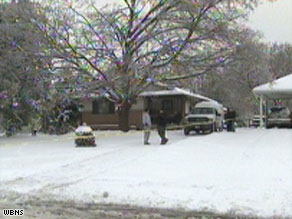 Police tape surrounds a Whitehall, Ohio, house, where a family of four was found dead Wednesday.
Police in Whitehall, east of Columbus, responded to a call around 2 p.m. Wednesday and found the bodies of Mark Meeks, 51; his wife, Jennifer Dallas-Meeks, 40; and children Jimmy, 5, and Abbigail, 8.
"We're confirming all four victims had gunshot wounds, and a gun was found at the scene," Sgt. Dan Kelso said.
A suicide note purportedly written by Meeks also was found at the scene, but police are not releasing the note's contents, Kelso said.
Authorities believe Meeks shot his wife and two children and then himself, Kelso said.
It was the second time this week that a family died in an apparent murder-suicide. On Tuesday, the bodies of Ervin Antonio Lupoe, his wife and five children were found in their Los Angeles, California, area home after Lupoe faxed a letter to a local television station explaining that he and his wife had lost their jobs and felt it was better to end their lives. [more]